In Nepal, people worship crows and cows, dogs and snakes, vehicles and tools.... isn't it strange? In hindu religion, there are 33 millions of god and goddess... one will wonder, how they can remember names. But it is not strange for those who knows Nepal has more festival days than days in calender. Well, we just finished celebrte biggest festival Dashain and another important festival Tihar is already knocking at a door.
After 15 days of Dashain, the biggest festival of Nepal, 2nd biggest festival is biginning from coming Wednesday which is know as Tihar or also known as Dipawali. It is regarded as a festival of lights. It is celebrated for five days.
On the first day, we worship crow ("kaag" in nepali and the day is known as kaag tihar). Crow is regarded as messenger (not yahoo messenger!!) between earth and heaven. people offer meal to crow that day. Not only on Tihar, crow are worshiped during ancestor's memorial days as well.
Second day we worship dogs. Dogs are regarded as gate keeper of Yamaraj who is god of death.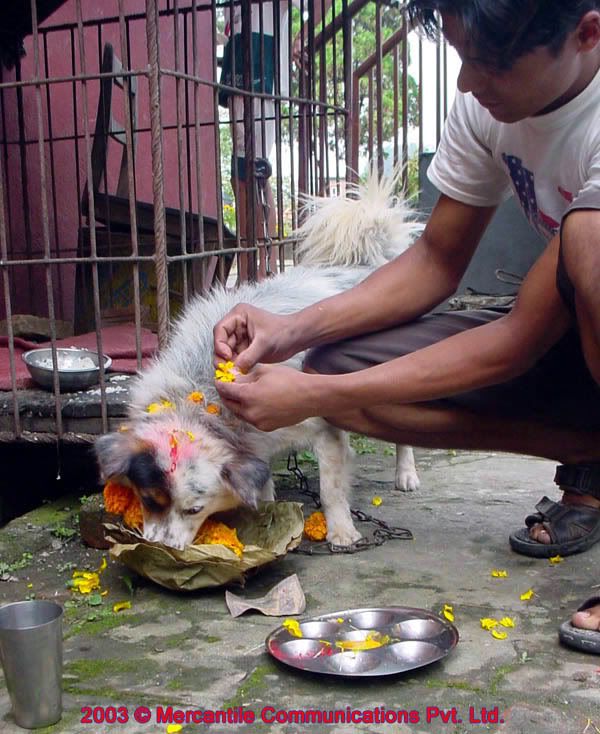 n the third day, we worship cow, which is regarded as goddes Laxmi, the god of wealth. In the evening, we worship photo or idol of goddess Laxmi. In the evening, girls or ladies play Bhaili in groups and visit home to home, singing and dancing, giving best wishes to all then house owner give them special food, fruits and money. These group of girls and there wishes are regarded as sign of good luck.
The forth day is Goverdan pooja, which means cow dung worship. Cow dung is also symbol of purity and wealth. In Newar community (native resident of Kathmandu valley, including me), we worship ourself. This day is also New Year Day of our calender which is known as Nepal Sambat. Nepal Sambat is not used officially but it is a Nepal's own calender abd we are trying to replace existing one with this Nepal Sambat.
New year greeting in two different Newa script, Nepali script and in an English.
Same like girls play Bhailo on Laxmi pooja day, boys play Deusi on forth day. But now a days, both boys and girls play together. Now a days, in citie areas, the culture has deformed and people play deusi bhailo as money making day. People in big groups (some political parties as well) go to big hotels to play deusi and demand huge money or donations. But all are not bad... some groups play deusi-bhailo, collect money and use in good work like social welfare. Anyway, this tradition is still well preserved as it is much fun to young people.
Kids playing deusi at one home.The light follow to the room where goddess Laxmi is being worshipd.
Finally, fifth day is the Bhia pooja day or Bhai Tika day (tika means red mark on forehead). This day, sisters worship their brothers. According to story, Yamaraj god of death coming to earth to receive one boy who have to die that day, but his sister requisted Yamaraj not to take her brother that day. She made some trics and made Yamaraj to wait until Bhai tika day. Yamaraj impressed by his sister's love, so he grant a life to her brother (this story may be little bit different as I forgot exactly but main theme is same)
Sister worshiping her brothers. On the floor is manadala.
Manadala: It is a drawing by water ring, oil ring, rice grain and different beans (I don't know names), flower and different color and finally oil lamps.
Garland of this flower (pink) is used to worship brothers. This flower remain for very long time. One of the condition sister made to Yamaraj is, he can not take her brother until that flower dry up and until oil ring (on manadala) will not dry up. Intelligent girl!!