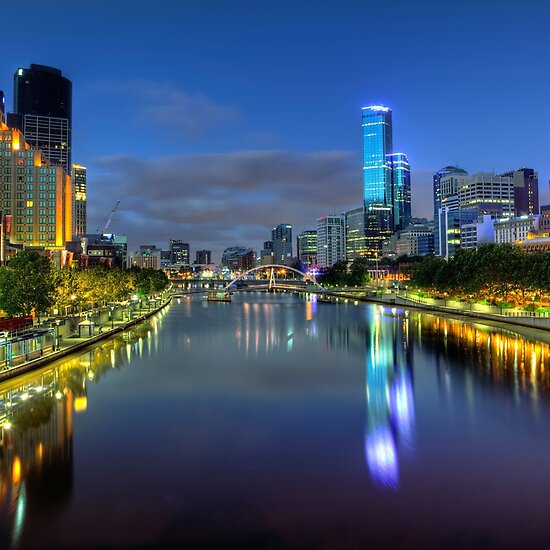 Southbank is an inner city suburb of Melbourne, Victoria, Australia located direct south of the Yarra River opposite Melbourne's Hoddle Grid. The northernmost area is considered part of the Central Business District and Central Activities District of the city. Its Local Government Area are the Cities of Melbourne and Port Phillip.
Bordered to the north by the Yarra River, and to the east by St Kilda Road, Southbank's southern and western borders are bounded by Dorcas Street, Kings Way, West Gate Freeway and Montague Street.
Southbank was formerly an industrial area and part of South Melbourne. It was transformed into a densely populated district of high rise apartment and office buildings .
Today Southbank is dominated by high-rise development. It is one of the primary business centres in Greater Melbourne, being the headquarters of Foster's, Crown Limited, the Herald Sun as well as regional offices of many major corporations in a cluster of towers . It is also one of the most densely populated areas of Melbourne with a large cluster of apartment towers including Australia's tallest tower measured to its highest floor, the Eureka Tower.
Southbank Promenade and Southgate Arts and Leisure Precinct on the southern bank of the Yarra River extending to Crown Casino is one of Melbourne's major entertainment precincts. Southgate's landmark Ophelia sculpture by Deborah Halpern has been used to represent Melbourne in tourism campaigns.
The area was part of the first port of Melbourne. It had a few old bridges, the first being the first Princes Bridge and later the Sandridge Bridge which was formerly part of the Port Melbourne railway line .
South Bank from one of Brisbane's CityCats.
Arts centre precinct which opened on parkland which was once used as an amusement park and featured the Southgate Fountain.
Queensland Performing Arts Centre, Brisbane
The Southbank art and craft market occurs on the promenade near the Arts Centre every Sunday. The promenade is also home to several buskers and a pavement chalk artists.
Southgate, Sheraton towers and new tall office buildings for The Herald and Weekly Times Ltd and IBM were built along with an award winning pedestrian footbridge
Eureka Tower
>
The 91 floor Eureka Tower was begun in 2002, aimed at being the tallest residential tower in the world and was completed in 2006.
Southbank promenade, designed by architects Denton Corker Marshall, runs from Princes Bridge along to Queens Bridge street and Queens Bridge which also incorporates Queensbridge Square and continuing to the west of the Bridge is "Yarra Promenade", which runs underneath Kings Way and Kings Bridge to Clarendon Street, Spencer Street Bridge including Crown Entertainment Complex and promenade restaurants.
Colorful fountain at night in Melbournes Southbank Australia